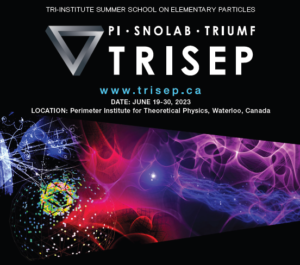 TRISEP-2023 is an exciting annual summer school on high-energy physics in its broadest sense: including particle physics, gravity and cosmology. We are writing to ask for your help in drawing it to the attention of interested graduate students. This year the school will take place at Perimeter Institute, during the two weeks of June 19-30.
For more information and to register, please visit https://events.perimeterinstitute.ca/event/42/overview
Additionally, please download this poster for further advertisement.
The program is intended for graduate students of all levels, who are already familiar with the basics of quantum field theory. The program will include speakers who will cover the following topics:
– Jodi Cooley, SNOLab – Underground Experiments
– Ed Copeland, University of Nottingham – Cosmology
– John Donoghue, University of Massachusetts (Amherst) – EFT Methods for Gravity
– Henrietta Elvang, University of Michigan – Amplitude Techniques and EFT Methods
– Darren Grant, Michigan State University – Particle Astro Observations
– Luis Lehner, Perimeter Institute – Theory of Gravitational Waves
– Jess McIver, University of British Columbia – Gravity Wave Experiments
– Nick Rodd, CERN – Dark Matter Theory
– Brian Shuve, Harvey Mudd College – Standard Model Theory
– Manuella Vincter, Carleton University – Collider Experiments
– Tevong You, King's College London – Beyond the Standard Model Theory
– Luna Zagorac, Perimeter Institute – Special topic: ALPs and Why We are Interested
We thank you in advance for sharing this information with potential graduate students.
Sincerely,
Local Organizing Committee
Cliff Burgess (Chair), Perimeter Institute & McMaster University
Asimina Arvanitaki, Perimeter Institute
Sergey Sibiryakov, Perimeter Institute & McMaster University
Perimeter Institute for Theoretical Physics | 31 Caroline Street North | Waterloo, Ontario, Canada | N2L 2Y5
Charitable Registration Number 88981 4323 RR0001
Friends of Perimeter Institute Inc. (EIN 05-0553637) is a 501(c)(3) organization.